Dark Buddha Rising – Live at Roadburn 2012
Cassette, limited to 200 pcs, out on April 4th!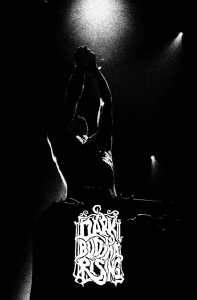 Finnish masters of dark psychedelia proceed onward after their last years epic release of three 12" EP's entitled Dakhmandal. Now their debut live recording is being released from their much celebrated performance at Roadburn Festival 2012 in Tilburg, Holland via Future Lunch.
Known from their black psychedelic art and performances, the group has gained major acceptance beyond borders. They are now serving you a unique glimpse of their previous guidelines as presented in this 2012 one-of-a-kind event. An event in which minds were trembled and all mountains shook up.
"I stood anxiously awaiting the Finnish hordes' arrival into an increasingly crowded Green Room. What followed was easily the most disturbing, theatrical and downright scary performance I've ever witnessed at this festival. The claustrophobia caused by the cramped room, the smoke and the volume was disorientating."
– Saúl Do Caixão of The Sleeping Shaman
Set your pre-orders at Future Lunch store.