Golden Lampreys – I Had My Fun If I Don't Get Well No More
Cassette, limited to 70pcs, out on August 18th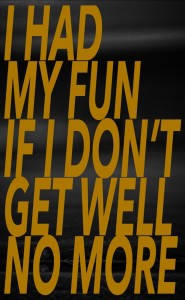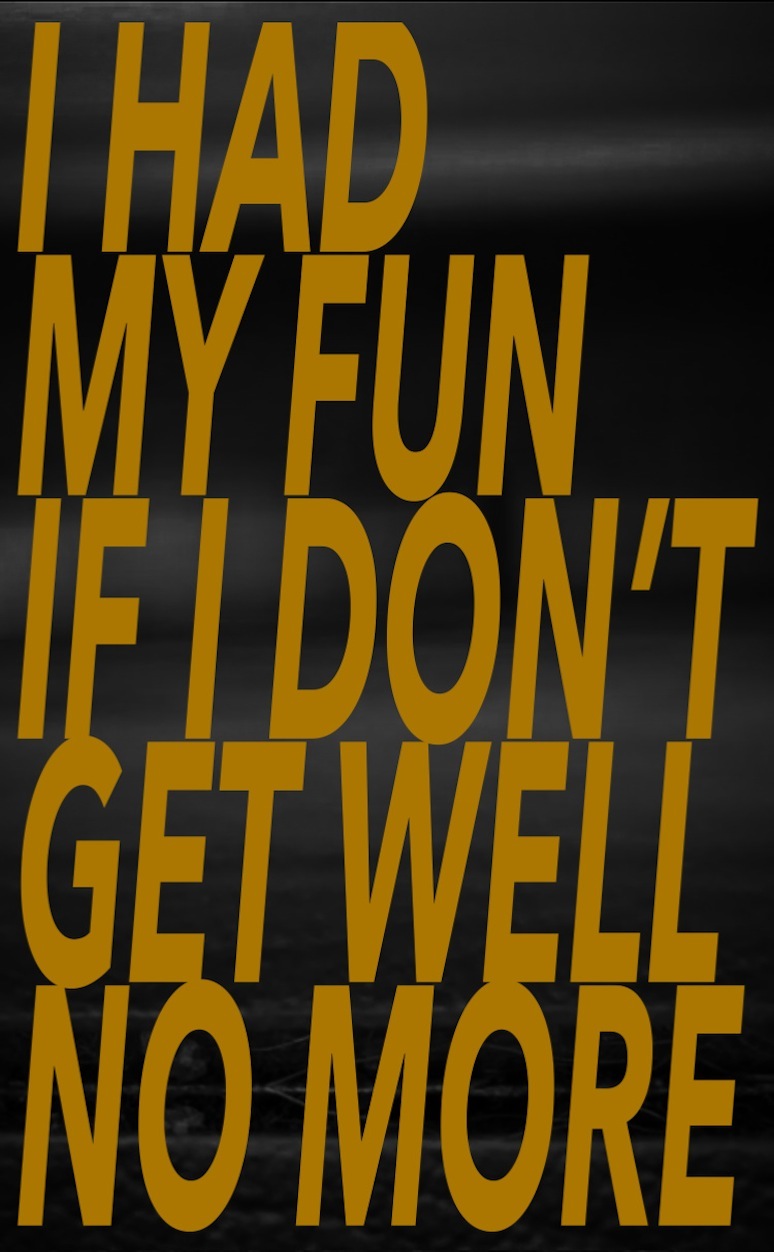 The passionate sprint of Golden Lampreys that started at the feet of the Pori cotton factory towards the core of electronic acid-blues has come to it´s end. Too much of everything is never enough. Although these unsung heroes of the river delta are too fast to die, eventually the frenzy beat of their music turned sour in the grayness of morning. The blues certainly got a grasp of them and now it´s time to pay the price. This EP, that´s going to be their last, is an evidence of this short chaotic run they had, the toughest hard-on's of a lifetime, intoxicated hallucinations in the wee hours, sweaty morning afters and spellbound hearts that force to carry on – as broken and weak they are to pump blood to their weary muscles.
Night has come and the deeds are done.
Love failed in the heat of the night.
The blues left scars in their hearts.
Something was gained and something was lost.
The party is over.
But they had their fun even if they won't get well no more.
Take ride with Golden Lampreys – the elite partner of acidy electro-blues and hear their swansong. They played the Blues and stumbled, so You would not have to.
Set your pre-orders at https://futurelunch.bigcartel.com/product/golden-lampreys-i-had-my-fun-if-i-don-t-get-well-no-more-cassette
Musti – |
Cassette, limited to 70pcs, out on September 1st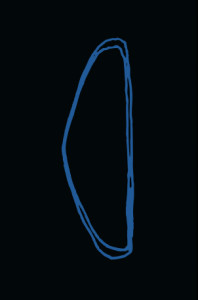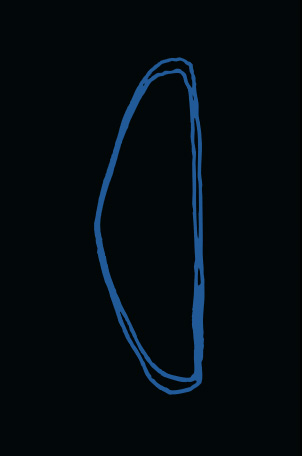 The triptych finalized.
The root file for | was first sketched during a production meeting in a private hotel suite in 2017. A night of big fun followed a set of panic attacks next midday. Zenning, percussive moment around a white metal table assembled the trio back to one and was the only document recorded from that period.
It got later composed as a backdrop for the groups first public performances held at an Eastern Finland botanical garden and a Western Finland manor house vestibule, titled Variations for table. The two public shows came to their fulfillment later at a rural cabin performance of the same theme, overseen by nightly rainfall.
A Free Form Art Group.
Set your pre-orders at https://futurelunch.bigcartel.com/product/musti-1
VALLIHAUTA – II
LP, limited to 200 pieces, out on January 25th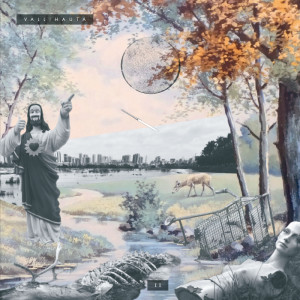 VALLIHAUTA returns with their second full-length album entitled "II".
Their mix of traditional doom and punk is now further refined and given birth in form of sludgy bi-polar aggression. With various edges added to the mix, deeper, darker and heavier in spirit, this moat is ready to devour you.
Vallihauta remain true to their trio form and live aesthetic. To praise authenticity II was recorded fully live by Tom Brooke at Tonehaven Recording Studios.
This album is manifestation of group's natural way of handling many cast iron styles. Outcome represents rough elegance, delivered from the Arctic Circle, where nights are either endless or non-existing, extreme as variations in their self-expression.
Set your pre-orders: https://futurelunch.bigcartel.com/product/vallihauta-ii-lp

Golden Lampreys – Just Because You Did It Doesn't Mean You're Guilty
12" EP, limited to 200 pieces, out on November 2nd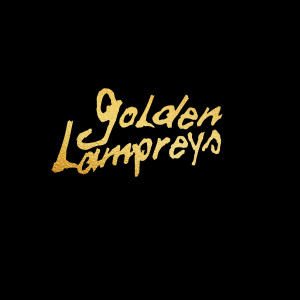 The sound of the northern delta and post-industrial premises in its truest form
After years of waiting, they're finally here. From the industrial landscapes of Pori. From the moisture of the dewy meadows by the banks of the river Kokemäenjoki. From the thick stench of the largest delta in the Nordic countries and the mud of the blackest polluted riverbed. There in the cold depths they've lived as parasites, feeding from the bigger fish. Growing and ripening, little by little, slowly but surely, making their way towards the sea.
If you've ever wondered what a band with Alan Vega, Mika Vainio and Tracy Pew might sound like, you've felt the touch of Golden Lampreys. Known from previous work under Sink abstract, late contributions with visual arts collective IC98 and forward thinking techno outfit OSO among others, the dualistic force behind Golden Lampreys, Aarno Kankaanpää and Henrik Wetterstrand, have become a staple in European freeform art scene within the last decade.
Group's debut EP "Just Because You Did It Doesn't Mean You're Guilty" offers four tracks in gold finished detailing, pressing strictly limited to 200 pieces. So consider this as a once in a lifetime opportunity to be there from the very beginning. The duo has performed their debut gigs in France this summer and will return on the road to celebrate the release via Future Lunch.
Golden Lampreys are here. Golden Lampreys are hungry. First they eat your ears – then your soul. Drop some acid and grab a bottle of liquor and you might end up experiencing the electronic primitive of your life – or permanent psychosis. Oh lord!
Set your pre-orders: https://futurelunch.bigcartel.com/product/golden-lampreys-just-because-you-did-it-doesn-t-mean-you-re-guilty-12

Musti – 2
Cassette, limited to 68 pieces, out on May 11th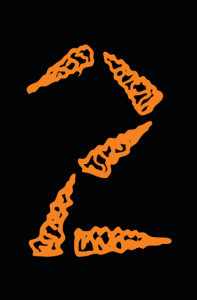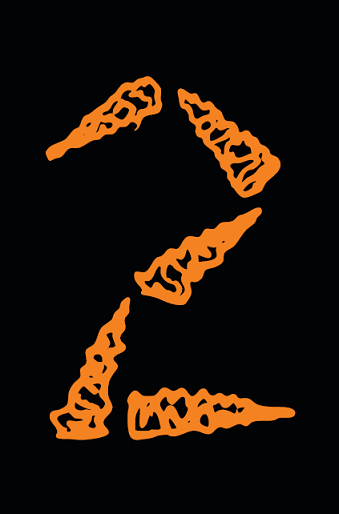 Musti is set to release it's second work originating from sessions surrounding summer 2016.
Releasing first tape '|||' (three lines) two years ago, recorded and based on three symmetric field trips in 2013–2015, there's new ground sorted on this seminal output entitled '2', limited to 68pcs.
Bipolarity as a double-edged dagger
Composed in two sessions the main characteristic for Musti's second work can best be described bipolar: yin and yang, the sun and the moon, sweet & sour, two eyes, a double-edged dagger.
Entering their Central Finland suite in May 2016, first session for '2' was filled with clarified emotions. Narratively 'Minotaur II', a continuation from first tape's 'Minotaur', gives second birth to this entity of ancient times. 'Puhelu' (Phone call) further thickens the plot.
Second session held in August turned out fundamentally different with medicated asleep at the wheel experience, intoxicated slumber and broken wires crackling on high voltage. As a counterpart to calm first session 'Kristallisaari' (Crystal island) and 'Vesi herahtaa kielon päälle' (Water salivates on top of a lily of the valley) both give the tape B-side a forbidden tension channeling the entire piece to full cohesion.
10th anniversary and more
As a volume in its main artist series '2' is the current outing in progress of pages yet to be revealed. Bipolar is the final step in realization of dualistic-monotheistic primal matter. A mono in stereo. A god within gods. And the infinite shape in unity of one within three.
Celebrating the 10th annual of Musti group, received information suggests there's more to follow this upcoming fall. The group will make its only public performance this year on Midsummer's eve, June 22th at Tampere Underground Juhannus 2018, Autotalli stage.
Set your pre-orders: http://futurelunch.bigcartel.com/product/musti-2-cassette